Pam's People in Cornwall started selling Prom Dresses over sixteen years ago and it is our speciality.
A wide variety of Prom Dresses are sourced from different suppliers including Manon and Prom Frocks and there is something to satisfy every girl's dream. With years of experience in Prom wear we can ensure that every Prom girl will look and feel her best. One of the most important events in your life we will help make it memorable by making sure you look and feel glamorous.
Come along for your own private appointment or arrange a Prom Party to try on our beautiful Prom Dresses.
Private Appointment
During your one hour private appointment in our Showroom we like to encourage our clients to look and try on the various Prom Dresses in the styles available. We offer advice on selecting a style suitable for her body shape with consideration taken on any colours and materials that help to enhance and compliment her hair colour, eye and skin.
The right Prom look
We will assist her in choosing a Prom Dress and she can try all the various different styles available. We have one piece and two piece dresses. There is also the full Ball Gown for the 'Cinderella' look with fitted boned bodice, full skirt and net underskirts. To create an illusion of height she can try the Ball Gown which flares from below the waist line. A fairytale style with a choice of full length or short gowns in a variety of colours can be with a touch of lace or romantic flowers.
With a wide variety of Prom Dresses you can choose something figure hugging, try a two piece and have either strapless, shoe string straps, wide strap bodice with a full skirt or straight 'A' line skirt and matching stole.
There are Prom dresses which are figure hugging and strapless, or if you prefer you can choose the shoe string straps or a wider straps if it feels more comfortable to wear a bra. Prom dresses are designed for all body shapes whether you are petite or pear shaped, slender or apple shape there will be a Prom dress to suit you.
Finishing the Prom look
With the Prom Dress chosen in the style, colour and fabric of your choice let us help to finish the look from our extensive range of accessories. We have Shoes, Bags, Gloves and Jewellery to complete your Prom Dress.
Not found what you are looking for?
Our Prom Dress collection consists of over three hundred dresses and if a suitable Prom dress cannot be found we are more than happy to obtain a further selection of Prom dresses for her to view with no obligation to purchase. You can also view further dresses here on our Prom Frocks page which are from the 2020 Collection.
Manon Prom Frocks
Prom Frocks – 2020 Collection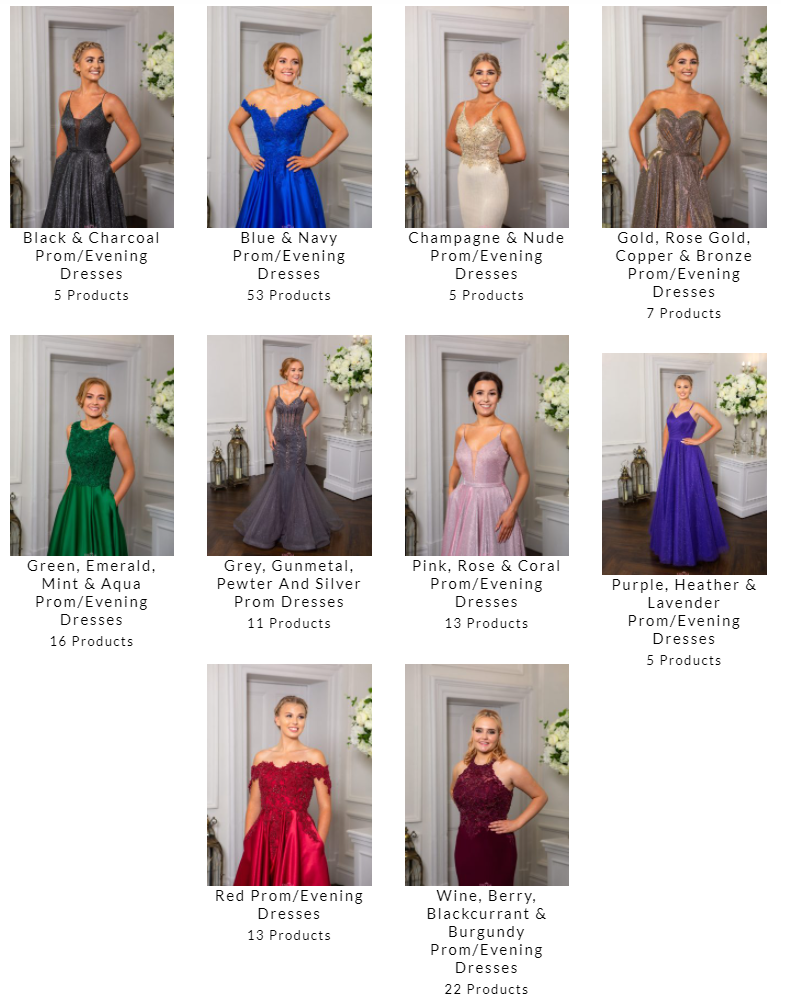 Wine, Berry, Burgundy and Blackcurrant Prom Dresses
Black and Charcoal Prom Dresses
Blue and Navy Prom Dresses
Gold, Rose Gold, Copper and Bronze Prom Dresses
Champagne and Nude Prom Dresses
Green, Mint and Aqua Prom Dresses
Grey, Gunmetal, Pewter and Silver Prom Dresses
Pink, Rose and Coral Prom Dresses
Purple, Heather and Lavender Prom Dresses
It's All About the Dress!

Complete the form below to let us know which dresses you are interested in.